| | |
| --- | --- |
| | "V-shaped" Belts for bread deposit |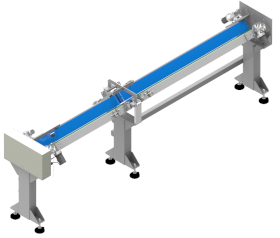 FILLING TRAYS WITH ABSOLUTE PRECISION
Belts inclined in a "V" shape designed for the transport and deposit in the tray or tablet of the dough bread coming out from a forming line.
They can be fed from any type of bread forming line, through an unloading belt.
They allow the dough bread to be stored in trays with multiple sectors or channels, managing even more bread formats.
The belts consist of a cold-bent steel structure supported by columns in electro-welded steel sheet painted with epoxy resin.
The belts are of the polyurethane type with HACCP coating and run on anti-friction guides.
The motion is provided by a pair of servomotors that work in synchrony, guaranteeing flexibility in the speed range and unique positioning accuracy.
By means of pneumatic actuators the belts, rotating, allow the sandwich to fall and deposit on the tray or tablet.
On long lengths it is possible to divide the belts into several parts, with only the area involved in the deposit openable.
For the stepping movement of the trays or tablets on which the belts will deposit the dough bread, we offer a catenary with step movement, moved by a brushless servomotor, a guarantee of reliability and accuracy in the management of the movement.
Can be combined with complete lines for handling trays with filling and emptying trolleys (trolley loader, catenary with stepped movement and filling of trays in passage through V-shaped belts, trolley unloader).