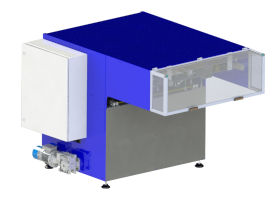 FLEXIBILITY AND USAGE SEMPLICITY
High-stack board feeder 120x140 with folder withdrawal through a combined system, aspirators and blowers.
Board holding through suction cups.
Board transportation on controlled axis with brushless motor.
Automatic control of the feeding level.
Speed and parameter adjustable from operative panel.
Change of size simplified by easy regulations on graded scales and digital indicators.