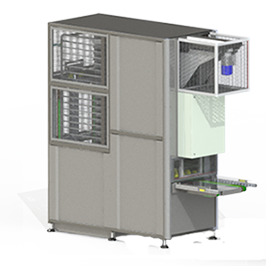 EFFICIENCY AND PRODUCTIVITY
Automatic bakery trolleys filling system.
The "EASY" trolleys loader allows a relevant reduction of the cycle time and so an effective increase of the production.
The working cycle is realized in this way: the operator inserts inside of the trolley loader the empty loader, closes the access door and confirms the trolley introduction.
Automatically the trolley has lifted up to the shelves buffer store.
When the buffer has been filled the simultaneous translation of the whole set of trays takes place inside the trolley.
Finally the trolley has descended into the ground, a light-acoustic warning advices that the machine is ready for the trolley substitution.
The substitution of the trolley full of trays with an empty ones does not stop the production cycle since the filling of the buffer store occurs simultaneously.
It is possible to use plane trays, wavy ones or shaped for hamburger bread and even the tablets system.
Further characteristics:
- Electro-welded steel structures then metallic silver oven painted;
- The trolley lifter and trays translator slides on recirculating guideways;
- Strain control sensor on trays translator;
- Moving parts protection carters and photoelectric sensor for operator's protection;
- Torque limiter on trays translator strain;
- Made in Italy motorizations;
- Omron production plc and basic electronics;
- 5" Touch screen panel for command and diagnostic;
- Carters made of steel plates oven painted with epoxy resin textured polished finish;
- Upstream machine interface.
Available versions:
For 15 shelves trolley;
For 18 shelves trolley;
For 20 shelves trolley;
For 60x80 cm tray;
For 80x80 cm tray;
For 60x100 cm tray;
With rear access door;
With right or left side access door.
These versions are settable depending on the customer's plant needs. The standard version is designed for the 15 shelves trolley, 60x80 cm tray and rear access door. We can realize versions with a customized number and dimensions of trays upon custemer request.

Optional:
- Carters made of satin AISI 304 finished stainless steel;
- Remote assistance via internet;
- Pneumatic sliding slides for trays at the machine entrance;
- Pneumatic positioning system for heigh adjustment at the machine entrance;
- Lifting, rotation and translation onto roller table at the machine entrance;
- Inlet catenary with step movement for combination with bread forming line.

The machine is furnished with CE safety certification and owner and maintenance handbook.