| | |
| --- | --- |
| | Outset CALENDER |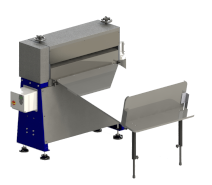 ROBUST, LONG-LASTING AND EFFECTIVE
Calender designed for paper, cardboard and other materials that has benne previously glued and coupled.
Thank to its pressing action it allows to better adhere the two elements and to eliminate eventual fold and air bubbles. It is adapt to work autonomously and at the same time it is ideal to be part of a production line, at the end of coupling system and/or turning-in ones.


Some features:
Pressure rolls covered with a thick layer of rubber with the vulcanization process; the rubber hardness and its thickness have been design in order to satisfy the largest part of production needs;
Adjustable pressure and introducing height;
Maximum workable material thickness: 15 mm (standard version); higher thickness are realizable (OPTIONAL);
Collection board a the end equipped with an easy and quick lock-unlock system;
Equipped with an inverter for the speed tuning;
Robust mechanics: the translating roll slides onto two overdimensioned gibs made of self-lubricating bronze;
Preset to be coupled with gluing machine "Raffaello".